The Barts and Th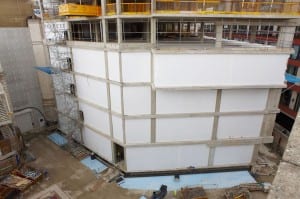 e London NHS Trust commissioned Skanska Innisfree to manage and redevelop the St Bartholomew's Hospital and The Royal London Hospital.
The programme involves the design, demolition, construction and refurbishment of two sites to make way for a new hospital complex covering an area of 270,000m2 in Central London.
The project, which commenced in 2006 and is due to last 10 years, involves the construction of two new 'state-of-the-art' hospitals in Central London. It has a contract value of £1 billion, and is one of the largest ever public private partnerships in Europe. The scheme comprises construction of a new concrete framed building with a large podium area and three towers ranging from 10 to 18 floors.
Construction Screens
Skanska approached Tufcoat to find a way of providing weather protection before the concrete frame and external cladding is finished, to enable internal building work to start ahead of schedule.
Normal practice would be to erect a scaffold and attach the Tufcoat shrink wrap sheeting to that structure. However, for this project Tufcoat battened our BC08, 300µm flame retardant sheeting around each individual opening and then used heat guns to shrink the plastic 'drum tight' to achieve the containment. The only other solution would have been to encapsulate the building as a whole.
This is a cutting edge system which has never been used before in this context; by encapsulating the building floor by floor in this way the result is creating a weather tight envelope. Project reports indicated that the Tufcoat internal screening solution enabled work to move 6 months ahead of schedule, subsequently making huge savings from a cost perspective but also in down time and overrun fees.
Once the buildings external cladding is applied, the Tufcoat shrink wrap construction screens will be removed in sections and recycled. All that is required is to bale the shrink wrap sheeting up in the on-site baler, deliver it back to the consolidation centre, where a local company then collects and recycles.
[flickr_set id="72157651877131900″]