A shrink-wrap construction screen is designed to protect workers against adverse weather and enable projects to continue internal fit out before cladding or glazing is installed.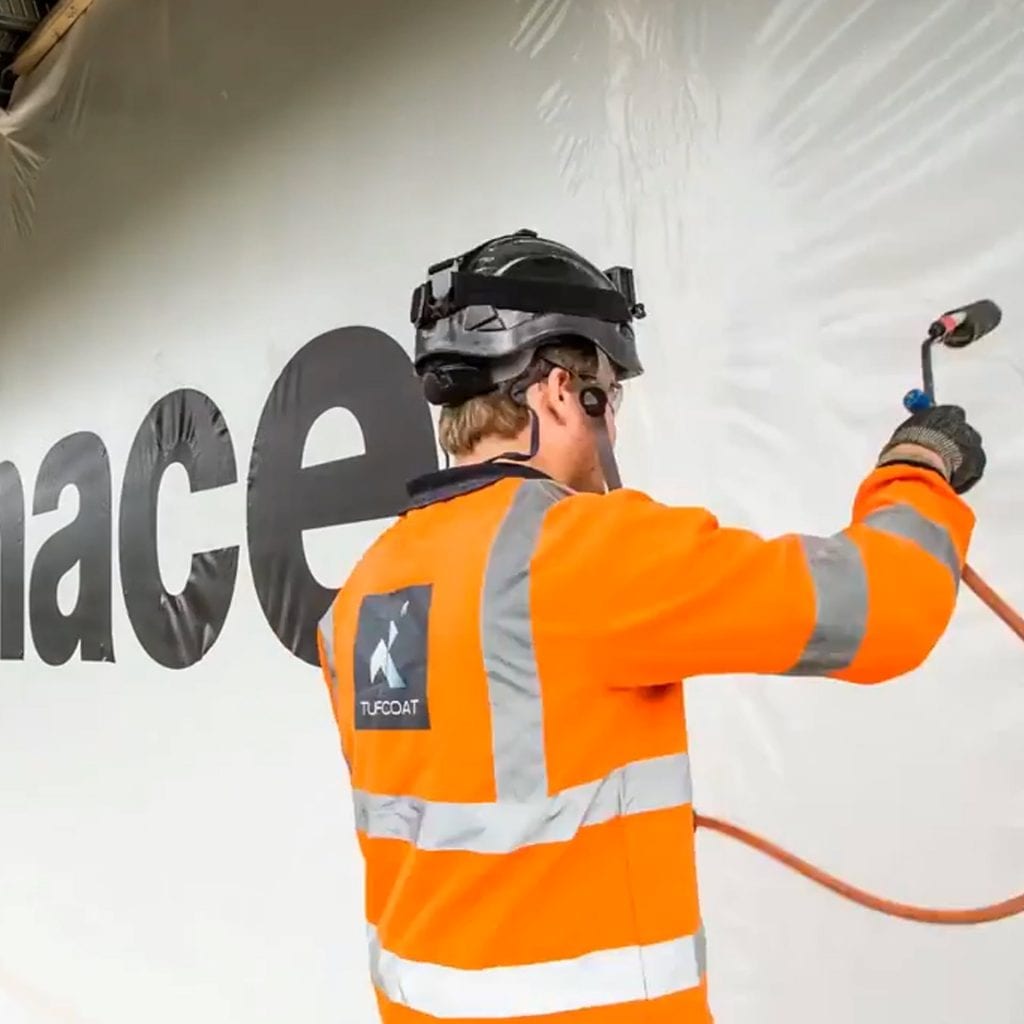 Tufcoat construction screens have been developed to provide temporary weather protection to steel or concrete framed projects by creating a floor-to-ceiling barrier infilling apertures, openings or whole floors of a scheme can be secured.
By fixing a perimeter screen to the reinforce concrete formwork or steel beams each level of this type of construction can be weatherproofed maintaining an internal, controlled environment suitable for advancing second fix activities before the building envelope is completed.
Once the exterior of the scheme is watertight then the screens can be removed, the shrink-wrap can be recycled and the timber either reused on-site or recycled as well.
This method has been recognised by the Considerate Construction Scheme's best practice hub and has been implemented on numerous sites for the time-saving benefits but also the safety aspect which greatly reduces wind gusting through the levels carrying dust and debris across sites.
If you are interested in a shrink wrap installation for your project, get in touch.

'Drum-tight' Fit
Tufcoat shrinks in 2 directions to produce a tight moulded for improving wind resistance.

Project Aesthetics
Enhances external appearance giving a professional looking screen to the construction site.
High Performance
Shrink-wrap provides excellent protection from high winds and rain once installed.

100% Recyclable
Shrink-wrap & timber can be recycled once removed, providing it is not contaminated.

Flame Retardant
Approved by Certifire to TS63 internally & TS62 externally and Certified to BS: EN13501 Class B standard.

300 Micron for Construction Projects
Thickness to suit weather protection and containment applications in construction.

Continuous Sheeting
Tufcoat provides excellent containment around entire levels of multi-story construction projects.

Versatile
With the use of strapping Tufcoat can wrap around elevations to form internal and external corners.
How do Construction Screens Work?
Shrink-wrap screens require a timber sub frame to be fixed to the slab, ceiling or columns, depending on design.
Once in place the shrink-wrap sheet is fitted to the frame using a second layer of the engineered timber before finally shrinking the wrap.
Construction screens can follow any line inside the buildings envelope and can be cut in around protrusions creating a weather proof barrier.
Mace engaged manufacturer and installer Tufcoat to work up a strategy to wrap the building with sheeting to create a protective cocoon. This has allowed a significant proportion of the fit-out works to commence three months earlier than initially planned. 
The perimeter corridor allowed the cladding contractor to install the envelope unhindered and without disrupting the ongoing fit-out.
Robert Cocks, Project Director, Mace
What makes Our shrink-wrap different?
Tufcoat shrink-wrap is manufactured to our unique formula.
We don't repackage other companies products which gives us control over our manufacturing process, maintained in accordance with ISO14001 and ISO9001 – a standard which we have maintained since 2005.
As a premium product, Tufcoat 300 micron shrink-wrap is approved by Warringtonfire Certifire scheme tested annually to TS62 and TS63, it also complies with BS: EN13501 class B, d0, s1.
We can install the scaffold shrink-wrap using our own expert specialists or we can provide the training and materials to anyone wishing to do it themselves.
Get a quick, no obligations quote