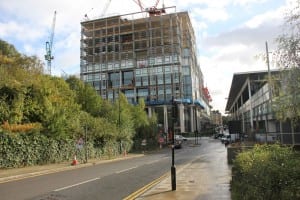 Camden city council commissioned the creation of a new civic building as part of the King's Cross Pancras Square project in London, which has been completed by Kier construction. This 185,000 sq. ft. headquarters will be used by Camden Council as offices, along with two floors for a 25m swimming pool and a library.
Camden Council and Argent-led King's Cross Central Limited came together to facilitate the St Pancras Square project, which has been designed by Bennetts Associates Architects. This saw Kier construction commencing work on Pancras Square in early 2012.
The project also targeted a BREEAM 'Outstanding' rating for the building upon completion, making it one of the first inner-city buildings in the UK to achieve this top sustainability rating.
With this specification in mind, Kier construction came to Tufcoat seeking an innovative and adaptable solution to meet their requirements. Tufcoat conducted work throughout a 2 month period, installing 300µm micron film in to the open window areas. This screening created a shielded environment, protecting the internal features from detrimental weather conditions. Kier encountered further delays, arising from their window supplier, which could have caused huge interruptions. However, through the installation of the Tufcoat system, the effects on the planned programme where minimised.
Tufcoat shrink wrap was applied to the building on a floor-by-floor basis to allow work to continue at a rate that suited the speed of construction inline with Kier's timeline. For this, shrink wrap proved to be an ideal solution, permitting complete weather encapsulation. This subsequently enabled internal fitting to continue throughout stages of the build where this would not normally have been possible. Without this the construction could not have continued as planned, causing delays in schedules and increasing costs.
[flickr_set id="72157638768521584″]