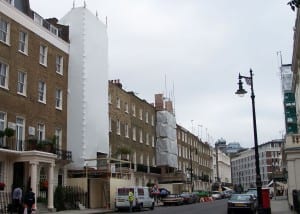 Urban Evolution Ltd is a privately owned property development company which delivers high specification buildings to the residential and commercial sectors in London. Urban Evolution won a contract to complete the conversion of a Belgravia town house into a 420m² single family dwelling on the Grosvenor Estate. On other contracts it had been common to use traditional sheeting. However, due to the property's location it was essential that the work was hidden and neighbouring properties were not affected by dust and debris.
Unlike traditional sheeting Tufcoat Shrink wrap provides a sealed skin around the structure which eliminates debris escaping the project. Adverse weather conditions can play havoc with sheeting and the Tufcoat Shrink wrap takes that headache away because it is heat shrunk drum tight to the scaffold, preventing self-destruction and maintenance costs.
Tufcoat were the chosen sub-contractor, and have proven to be a valuable asset to the project. In the two years on site Tufcoat have had zero accidents or incidents, and all employees have been proactive with the safety culture on site.
The structure that needed containing was a total of 180m² and the Tufcoat installation team used a 12m x 15m shrink wrap film which was applied to the scaffold structure. Initially the sheeting was clipped and welded on to the scaffold. Once the welds had been completed the clips were removed and the shrinking process started using a gas propane heat tool.
The complete containment that Tufcoat provided enhanced the aesthetic appeal and maintained the appearance of the exclusive Grosvenor Estate which was essential for this project. The shrink wrap screening made the construction work unnoticeable to the public eye and prevented any construction debris from escaping.
The client and management contractor on site have commended Urban Evolution, and Tufcoat, on the performance of the sheeting. Strong wind speeds were experienced on a regular basis, and the sheeting has proven resilient. Tufcoat performance on site was exceptional over the course of the project, and the client has made enquires to use this product on other sites.
[flickr_set id="72157651881015878″]