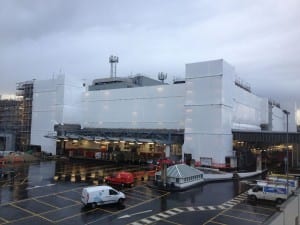 Tufcoat were contracted by GKR scaffolding to encapsulate scaffold on The Royal Mail's Mount Pleasant Sorting Office in Farringdon, London for containment and screening.
Mount Pleasant is one of the world's largest sorting offices, covering an area of 7.5 acres. It's home to an expansive set of 23 miles of train tunnels which were built to deliver the post and did so up until May 2003.
GKR are providing full scaffold access to the entire external elevations of both the Sorting and Post Office Buildings for Mace limited.
The 20,000m² of flame retardant 300µm shrink wrap was fitted by our installation teams on the site in Farringdon over a 6 week period. This allowed the refurbishing works to provide containment and screening of the site.
This project is just the latest collaboration between GKR and Tufcoat who have previously worked together on a private site in Kensington, weather proofing a town house for a restoration project.
[flickr_set id="72157640081137354″]