Tufcoat were contrac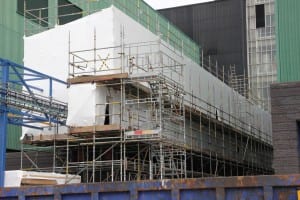 ted by Coating Services to provide pipe bridge encapsulation whilst blasting and painting was carried out on the pipework.
EDF Energy own and operate eight nuclear power stations with a combined capacity of almost 9,000 megawatts.
The station with the highest capacity is capable of supplying over 2.5 million homes – enough electricity to keep three cities the size of Liverpool supplied during peak loading hours.
Pipe Bridge Encapsulation
The installation required a final seal around the perimeter and also Cordek™ flooring, to enable workers to collect the residue of the blasting before painting began.
In total 600m² of 300µm flame retardant shrink wrap was installed over a 2 week period allowing the site to remain fully contained during the works.
Bryn Largue, Project Manager at EDF Energy commended Tufcoat by saying "I would like to thank the Tufcoat team who carried out the work on the Auxiliary Pipe Bridge project, their general attitude and work ethic are a great credit to Tufcoat and made our work much easier."
[flickr_set id="72157648670923106″]