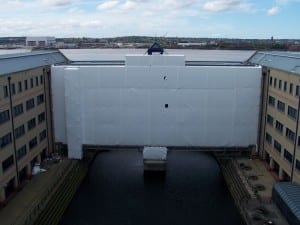 The HM Revenue and Customs building consists of 2, 48 metre spans across the graving dock in Queen's Dock, Liverpool.
The 3,600 tonne steel frame straddling the dock houses 1500 HMRC workers, and as part of the regeneration project of the building this structure required extensive shot blasting and painting.
Merseyside Coating Services appointed Lyndon Scaffolding to erect the structure that would allow access to the steel frame to complete the works, and in turn Lyndon appointed Tufcoat to provide a solution that would contain the blasting and painting works from the dock environment.
The challenge for Tufcoat was to sandwich the frame work to protect and screen the offices, which was achieved by creating 'final seals' around each connecting girder. The shot blast was then collected at the bottom of each lift and the process repeated moving down the scaffold.
300µm flame retardant, construction grade shrink wrap was specified for this project and in total 4700m² was installed, encapsulating the four facades using in excess of 3000m of Tufcoat patch tape.
[flickr_set id="72157652224130726″]