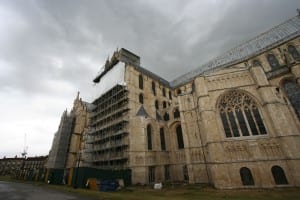 Tufcoat were approached by the conservation and restoration team from Canterbury Cathedral to provide a solution whilst they removed stained glass from the 12th century South Oculus Window in the south-east transept.
The provided solution used Tufcoat 300µm flame retardant film to encapsulate the working area outside the Cathedral for the safe removal of the glass, and to ensure a clean environment whilst the restoration work underwent completion.
Canterbury Cathedral is built in the form of a double cross, with a main central tower that overlooks two additional west towers. Work was required on the south oculus of one of these tower's beautiful stain glass windows.
The work was needed in order to clean a century's worth of dust and grime that had built up, with the removal of corrosive products also required. The works involved the delicate task of removing the glass with a new metal frame being added before the refurbished glass was carefully put back in to place.
This delicate work meant that a clean and encapsulated environment was required to undertake the precision work and protect both the inside and out. Tufcoat undertook the project and 2 members of our installation team delivered a perfect solution which cocooned the scaffolding; creating a perfect working environment through effectively sealing in the works.
Tufcoat's 300µm film not only protected the team and windows whilst undertaking the work, but also meant that the precious internal features of the cathedral where protected from any of the harmful by-products of the project.
Additional benefits were felt through the taut product not being susceptible to flapping in the wind, subsequently preventing noise in the tranquil environment. Tufcoat's white sheeting also allowed enough light through to allow work to be conducted.
This sensitive conservation project exhibits the versatility of the Tufcoat product range, and how such a specialist artisan project can benefit from the encapsulation solution offered by Tufcoat and the installation team involved.
[flickr_set id="72157636291036706″]