Tufcoat have expanded our weather protection and environmental containment operations in Scotland and have made key appointments at our Glasgow base.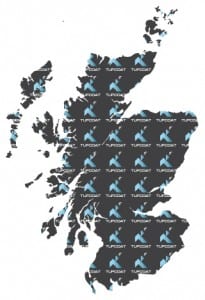 Shrink-wrap Scotland
With over 30 years combined experience, Tufcoat's Scottish Supervisors have worked on major projects from offshore shrink-wrapping for Burntisland in Methil and Invergordon ship yard to the Forth Rail Bridge encapsulation.
Sally Rae has joined this already established Scotland based shrink-wrap team as the Regional Business Manager.
Latest appointment
We created this role in anticipation of the surge in demand for a regional service, reflecting our operations in the Midlands, South and West of the UK, offering experienced shrink-wrap installation and high quality materials.
With this demand, our strategy to support this market includes a Scottish warehouse, based in Glasgow, ensuring that local customers and project requirements are met quickly and effectively.
Sally brings to the team a wealth of knowledge from a customer focused perspective, which is already proving to be a positive balance to the teams dynamic.
Investment in community
"It's an exciting time for business in Scotland. With the oil and gas sector still in recovery, the need for businesses to diversify is greater than ever.
I have already seen companies demonstrating innovation in fabrication, property redevelopment and investment in our countries communities to counter the reduction in North Sea activity." Said Rae.
"My focus is to come alongside clients to understand how Tufcoat can offer the region an experienced workforce of shrink-wrap installers with a positive customer centric service and high quality products"
Our Regional Business Managers are available to discuss all project requirements, our products or services, wherever you are based in the UK.
Sally Rae – Regional Business Manager (Scotland)
Tel. +44 (0)141 4324 310
sally.rae@tufcoat.co.uk
Steve Withers – Regional Business Manager (Midlands)
Tel. +44 (0)1785 632 222
steve.withers@tufcoat.co.uk
Callum Alexander – Regional Business Manager (South and West)
Tel. +44 (0)1752 227 333
callum.alexander@tufcoat.co.uk