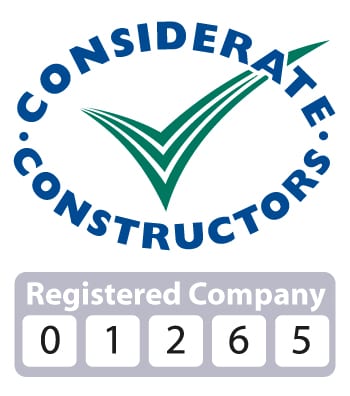 As a registered company and supplier of the Considerate Constructors Scheme, Tufcoat shares the Scheme's code and reflects it value in both the projects it completes and products supplied to its customers.
Considerate Contractors Scheme
The Considerate Contractors Scheme's five-point Code of Practice states that sites, companies and suppliers must 
Care about Appearance

Respect the Community

Protect the Environment

Secure everyone's Safety

Value their Workforce
Tufcoat began suppling the construction industry in 2005 after working in the marine sector providing weather protection to boat owners and marinas for winter storage, transport or refit.
Where the common practice was to use traditional scaffold sheeting and tarpaulins lashed to timber frames and scaffold, the common problem which Tufcoat shrink-wrap overcame was that of detached covers, failed work environments and unsafe work tents.
It was the application of wrapping a scaffold which whilst was not a new concept saw the focus of the business shift from one seasonal sector to that of the construction industry.
Ten years later and Tufcoat have been registered with the Considerate Construction Scheme since 2015, recognising its importance in the industry. 
Safety, Environmental Protection and Appearance
By demonstrating the core fundamentals of Safety, Environmental Protection and Value of Appearance, Tufcoat reinforces the Considerate Constructors mandate to new customers with a system designed to improve their own sites.
Tufcoats scaffold shrink-wrap out performs other sheeting products visually by creating a blank canvas of which there can be several additions to enhance a site such as branding in the form of adhesive stickers or working in conjunction with large format graphics.
Its performance is superior due to nature of it's installation. As one sheet there can be no breaks in encapsulation to allow weak areas for adverse weather to create the common sight of flapping and noisy untethered sheets.
This improved visual appearance also provides a huge benefit in that the access or working lift of the scaffold becomes an environment which can provide a positive working area for harsh applications such as grit blasting and re-painting.
Finally the importance of a reinforced shrink-wrap elevation provides the additional safety to both the general public  and workforce by preventing any objects leaving the site.
Tufcoat maintain both a visual record of Considerate Contractors Site and written handover document to both ensure a quality of workmanship but also to act as an advert to other companies considering using this system other own sites as completed projects and the positive feedback from the general public and clients are a testament to this products suitability for all projects covered by the scheme.