Tufcoat were approached by Piriou to encapsulate their 44 metre naval training ship.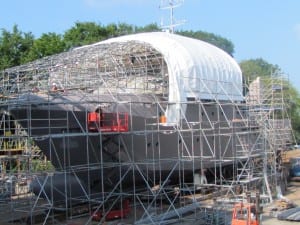 Due to the shipyard's proximity to the sea, the structure presented an obvious habitat for seagulls and a bird deterrent for temporary shipbuilding shelter was required.
Tufcoat have previous experience with the problem of seagulls perching on the top of the shrink wrapped structures, not to mention the waste from the sheer amount of birds in the area. On landing their sharp talons make small cuts in the shrink wrap. Without attention these can develop into bigger holes with any kind of wind, and could potentially damage the enclosed environment.
Tufcoat utilised a previous solution used on other marine projects both in the UK and in European shipyards where similar problems occur.
This protection system used a method of running lines made out of fishing wire over the boat, so that they formed a barrier over the area the seagulls would land on. This meant that as the seagulls came to perch their wings would touch the wire, preventing them from settling on the shrink wrap structure. This simple idea solved a potentially serious issue and allowed the project to run as scheduled.
Other methods employed to deter birds from sites have included using a plastic owl. However this is a short term solution which subsequently means local birds soon learn to ignore the dummy bird. Another method is Falconry, which although effective initially, can vary depending on whether the birds are nesting. Finally debris netting can be fixed to the top of the structure to unnerve the bird once they land, which is a popular practice due to the cost of the material.
Tufcoat have applied their shrink wrapping expertise in marinas and shipyards for over 10 years, so taking an innovative approach when dealing with unusual situations is something we excel at.
To find out more about the temporary shipbuilding shelter, read the project case study.