The Silver Jubilee Bridge, originally built in 1961, required strengthening work to be carried out which involved the additions of new steel and concrete repairs.
Tufcoat were contracted to provi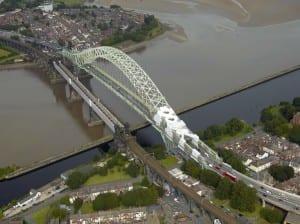 de shrink wrap encapsulation of the scaffolding to contain debris from grit blasting. A full case study on Tufcoat's shrink wrapping of the project can be found here.
Tufcoat were presented the issues of preserving the river's ecosystem during the Silver Jubilee Bridge Grit Blasting, while allowing the bridge to remain operational to the 80,000 vehicles that cross daily.
Since a campaign started in 1985 to restore the river's ecosystem from the effects of industrialisation, the Mersey is home to a diverse range of wildlife ranging from salmon to dolphins and porpoises. This meant it was extremely important that no harmful debris from the grit blasting process reached the river. Tufcoat's shrink wrap encapsulation had a final seal that contained all pollutants, meaning the ecosystem remained unharmed from work carried out to the bridge.
To overcome the issue of delays to the bridge's users, Tufcoat carried out their work during the night. This allowed the bridge to remain operational during the day, meaning construction work didn't affect the travel plans of its users.