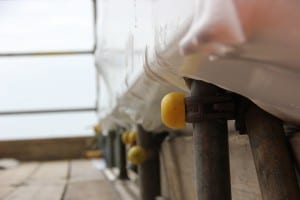 When a project requires full containment of residue and debris, a shrink wrap final seal provides the ideal solution. This process creates a join between areas where substances could escape, such as gaps between the shrink wrap sheeting and the floor, wall or ceiling of the structure.
Non – slip floor boards can also be installed as part of the final seal process, providing additional containment and improved safety on top of the boarded lifts of the scaffold. This not only reduces the slip hazards when carrying out tasks which create dust but also allow for a more efficient clean up after by containing debris in each lift.
The most common application which require final seal are projects where shot blasting is taking place inside the shrink wrapped scaffold structure. Final seal also benefits internal shrink wrap partition projects which require a segregated clean room environment.
Past projects that have used final seal include:
• Bridges – Silver jubilee Bridge and Twickenham Footbridge
• Marine Vessels – Almak MTV and Fort Rosalie
• Internal partitions – Nature delivered warehouse and Bombardier Aerospace factory
• Oil & Gas enclosures – Brunei topside module and Heysham power station
Final seal scaffold containment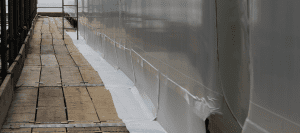 Shrink Wrap skirting
Shrink wrap skirting is used to provide the final seal. The bottom ledger of the scaffold may finish above an uneven surface, so additional sheeting is welded to the edges of the main shrink wrap structure and then fixed to the floor using batten to create a contained interior. This process can also be applied to the sides and ceiling.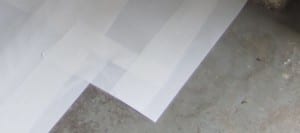 Adhesive patch tape
Adhesive patch tape can be used to cover any small gaps in the structure. This includes areas around protruding scaffold poles, or spaces between the shrink wrap and the surrounding wall, floor or ceiling. Patch tape can also be used to attach shrink wrap sheeting to the floor or walls.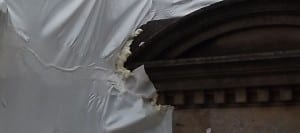 Expanding foam
Expanding foam seals around awkward areas that can't be sufficiently covered with patch tape, offering further containment around any remaining gaps.

The cost of final seal is calculated on a linear metre basis regardless of the method of containment, with the exception of scaffold protrusions which are taken in to consideration with the overall project.

[flickr_set id="72157654590196990″]